Ralphie Gets Scrooged
By James Burns and Joy Vernon, Based on A Christmas Carol and A Christmas Story
Directed by James Burns
December 1- December 23, 2017
Playing at: ArtLab- 239 Linden St
---
"Don't get your tinsel in a twist. . ."
Spice up your holidays with a fast and furious mashup of yuletide pandemonium. Hysteria takes the stage as the best parts of two beloved Christmas stories are squeezed into condensed mayhem, condensed again, and then merged together to create a completely new Christmas experience. Interspersed with holiday songs and cheer, Ralphie getting Scrooged is sure to delight adults and children alike!
ArtLab Fort Collins-  239 Linden St
Get Tickets
You'll shoot your eye out!
The Story
Christmas is a time for classics, the old films and stories we break out and dust off once a year. OpenStage is taking two of those traditional holiday favorites and turning them on their heads! 
Charles Dickens' A Christmas Carol tells the story of a curmudgeonly old man who hates Christmas, Ebenezer Scrooge. As the ghost of his former business partner and the ghosts of Christmas Past, Present, and Yet to Come visit Scrooge, he is transformed!
Ralphie in A Christmas Story only wants one thing for Christmas, a Red Ryder Carbine Action 200-shot Range Model air rifle with a compass in the stock and "this thing which tells time". But alas, being a kid is hard, and everyone thinks Ralphie will end up shooting his eye out!
But watch out for the chaos that ensues, when these two holiday classics collide!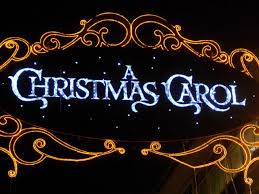 "There is nothing in the world so irresistibly contagious as laughter and good humor." ― Charles Dickens, A Christmas Carol
The Experience
Turn up the holiday fun with OpenStage's remix: Christmas Chaos: Ralphie Gets Scrooged! It's fast, furious, and hilarious. Interspersed with all your favorite holiday songs, it's great holiday fun for all ages. Run time is approximately 90 minutes.
The etcetera Season is raw, real, honest, and intimate cutting-edge theatre in non-traditional spaces. With the actors only a few feet away, audience members are drawn deeply into the action of the play, creating a powerful, unforgettable experience.
The Creators
In true artistic collaboration, this play is brought to you by OpenStage's very own! Director James Burns, Associate Artistic Director Sydney Parks Smith and Producing Artistic Director Denise Burson Freestone have partnered up with author Joy Vernon to remix these Christmas classics into hysteria. 
OpenStage's Production of "A 15 Minute Christmas Carol" 2016
Performance Schedule and Ticket Options